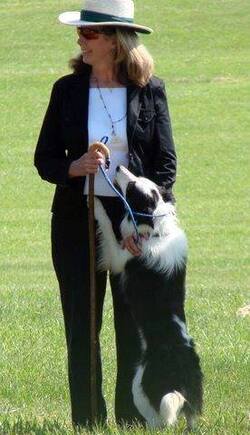 Sheepdog Trials USA 2014 Blog
​
My father, Walt Jagger, gave me a dog named Freckles back in 1980. She had been turned off to sheep due to some rough handling and he thought she needed a woman's touch. Though I fought the idea kicking and screaming, I took on Freckles and working sheep, which I had never done. We always had sheep, but my brothers, sister and I were the dogs who herded them until we all went to college.
At this time, there were no videos, very few books, no clinic just people who would tell you it will work it out. It took us a short time to figure out that most of these folks did not actually know how to train, as they had always purchased trained dogs. Along with my dad, Walt Jagger, Bruce Fogt was my mentor at that time. I shadowed him and learned a great deal about trialing and training.
The first Finals I went to was with Nell in Kentucky. Nell qualified third on the first qualifying run and then ended up eleventh overall in the Finals. Though I had never done an international shed before, Nell and I came very close. I was thrilled and determined that I would no longer miss the Nationals if I could in any way get there. I have been lucky enough to run in the nationals many times qualifying for the semi-finals several times with Nell, Spot and Fleet.
Preparing for the Finals is always a real tough thing, being from east coast Since we do not have large fields, we do a lot on close work, such as penning, getting close to sheep in small areas, taking wide flanks, close flanks, pen and barn work, and so on. All of this work helps the dogs in their confidence to work other kinds of sheep unlike the hair sheep we usually see at trials.
---
​
I am lucky in more ways than one that I met and married Dick Williams, who also is a very strong competitor in the sheepdog trials. I always say he is my best student. We can work together on outruns and checking each other's training.
We try to get to larger fields as many times as possible. Since we have only hair sheep, we try to go to other people's farms and work their wool sheep, especially if they have been lightly dogged. We always try to get to the Canadian trials at Kingston, as the island wool sheep are a great challenge. It is a good preparation for the sheep out west. We do practice the double lift, but not too close to competition time, as they will attempt a look back prematurely if we are not careful.
Fleet at four years of age, has qualified for the Nationals each year he has run. Through Kevin Evans, I purchased Fleet from Weit van Dongen from Holland at 2 years of age. I saw him in videos and was sure he was a dog I would like to work with. He is by Serge van der Zweep's Jim out of his Nettle. He has won several trials for me and has been a consistent dog in the top rankings of the USBCHA and the NEBCA. Fleet is a delightfully happy dog. He is very gregarious and wants to please. He is a workaholic preferring to work over anything else. He is a great farm dog as well as a great trial dog. Now I am going to the World Trial in Scotland with my Fleet, what an honor!
I am pleased to have him and look forward to working with him through many years.